There are a few ways you can get started with Young Living...good, better, and best!
Choose which one will work best for you!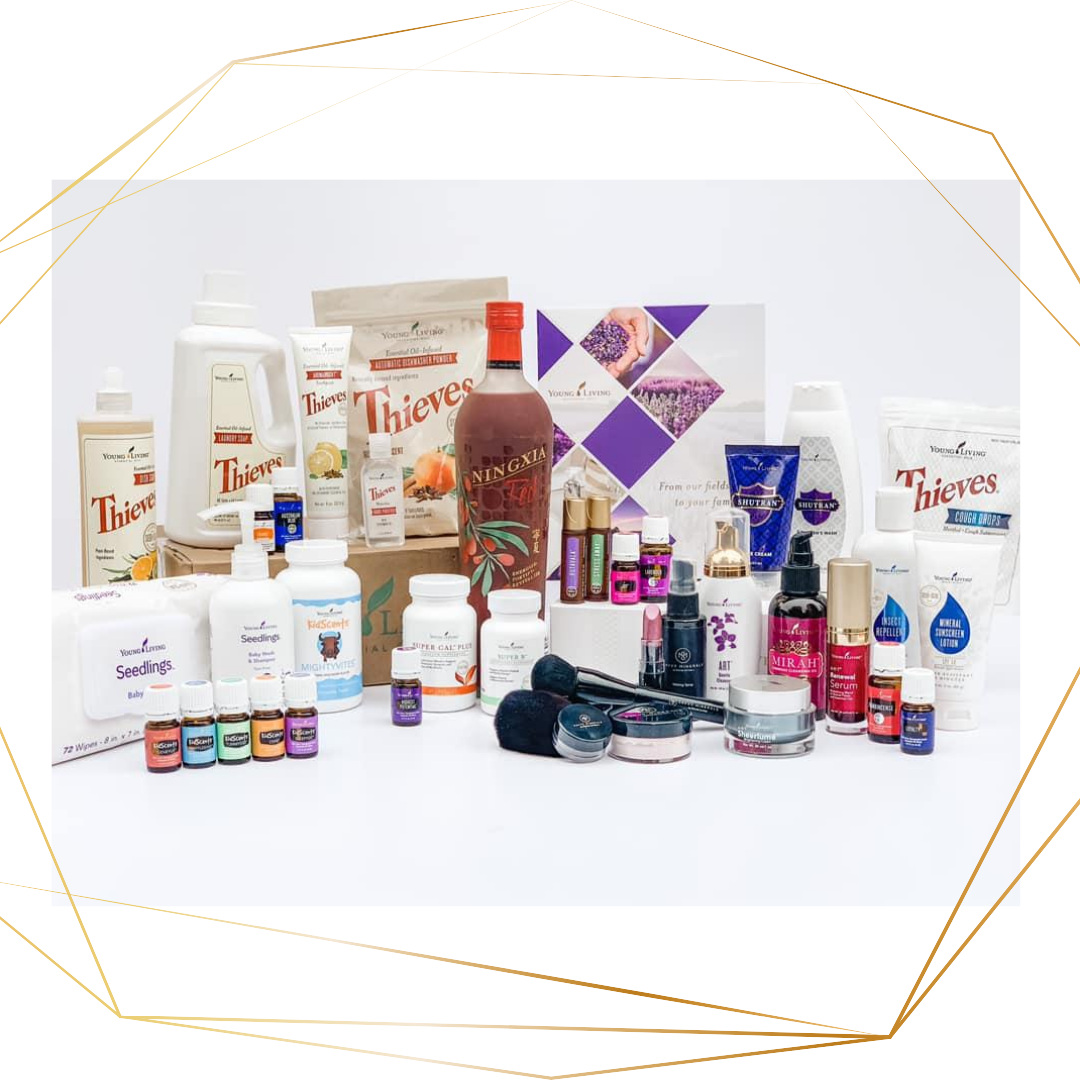 A good way to get started with Young Living is to become a retail customer. This is a good choice if you just want to buy one oil or product. But if you think you would want to buy any more Young Living products in the future, the better way to go is to grab a starter kit so you can save 24% off!
When you get any starter kit, you will automatically get 24% off the retail price every time you buy. It's like Costco except even better because you never have to pay an annual fee! It's a preferred customer membership for life!
A preferred customer membership/wholesale also means you can earn referral bonuses from sharing oils with a friend should you ever choose to do! However, there is never any obligation to do that. Most people grab the discount for their own personal use!
There is also never any obligation to order monthly in order to keep your preferred customer membership. To keep it active, you only need to place a 50pv order once a year.
A better way to get started with a preferred customer membership is to grab the customizable Basic Kit for $35 and add on the products you want to get and get 24% off the retail price immediately and for life! This is a good way to get started if you only want a couple things.
The best way to get started is to grab a Premium Starter Kit with Oils, Thieves, NingXia Red, or CBD!
With any premium starter kit, you are going to get a large discount on top of 24% off plus all premium starter kits now come with FREE shipping! Grab Your Kit!

Here are the price break downs for each kit!
The Premium Oils Starter Kit comes with

12 oils

, your choice of diffuser, 2 Ningxia Red packets, Thieves hand sanitizer, and Thieves spray! It is valued at $422 but it's only $165! It's the only thing on the Young Living website that is over half-off! This is our top seller!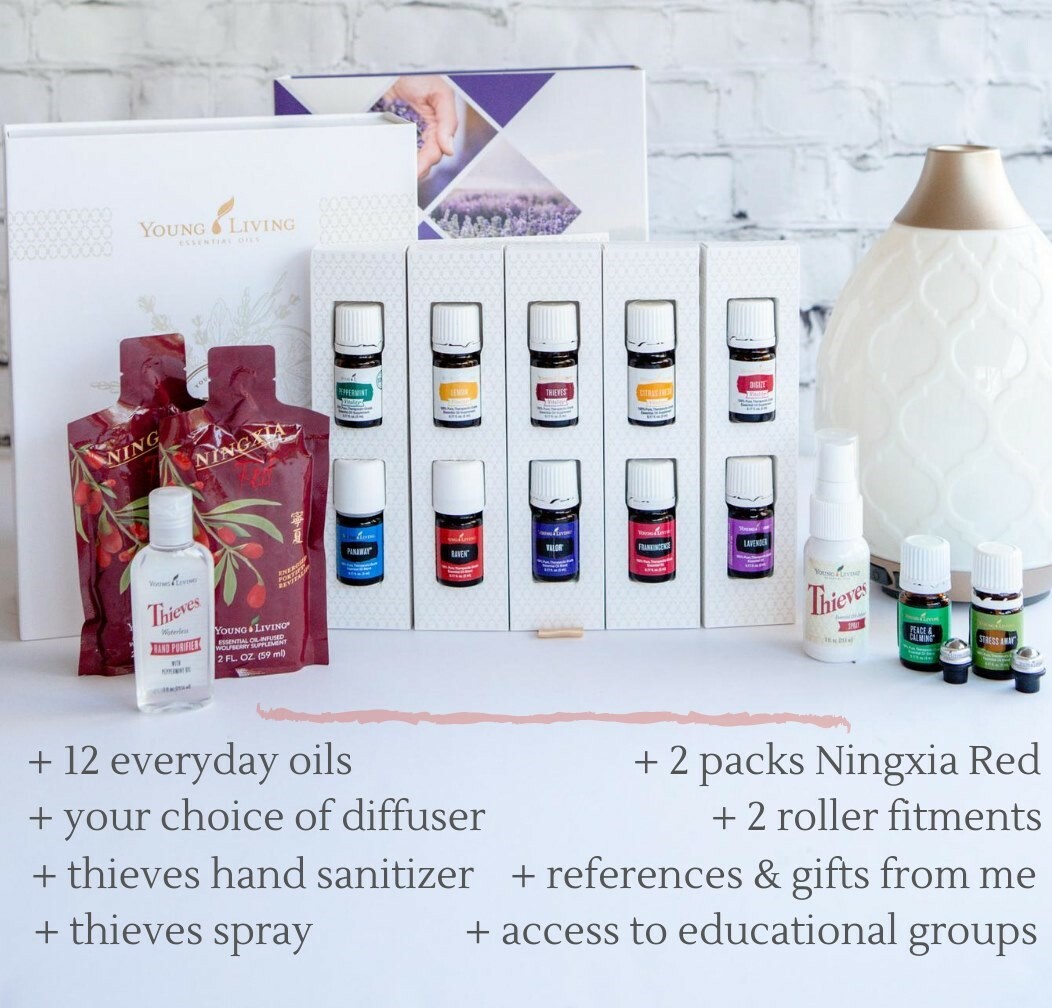 Not sure if you'll use all those oils...don't worry!

Here is a quick

Essential Oils 101 class

that will walk you through a few ways to use each oil! There is an oil for almost every body system that you may need to support! Once you grab your oils kit, I'll be here to walk with you every step of the way and I'll be available for every question you have! You'll have

lots of great resources to make sure you find your favorite ways to use each oil!
Choose from these beautiful diffuser options for your Premium Oils Kit! All Young Living cold-water diffusers are made with the highest quality materials and have a one year warranty!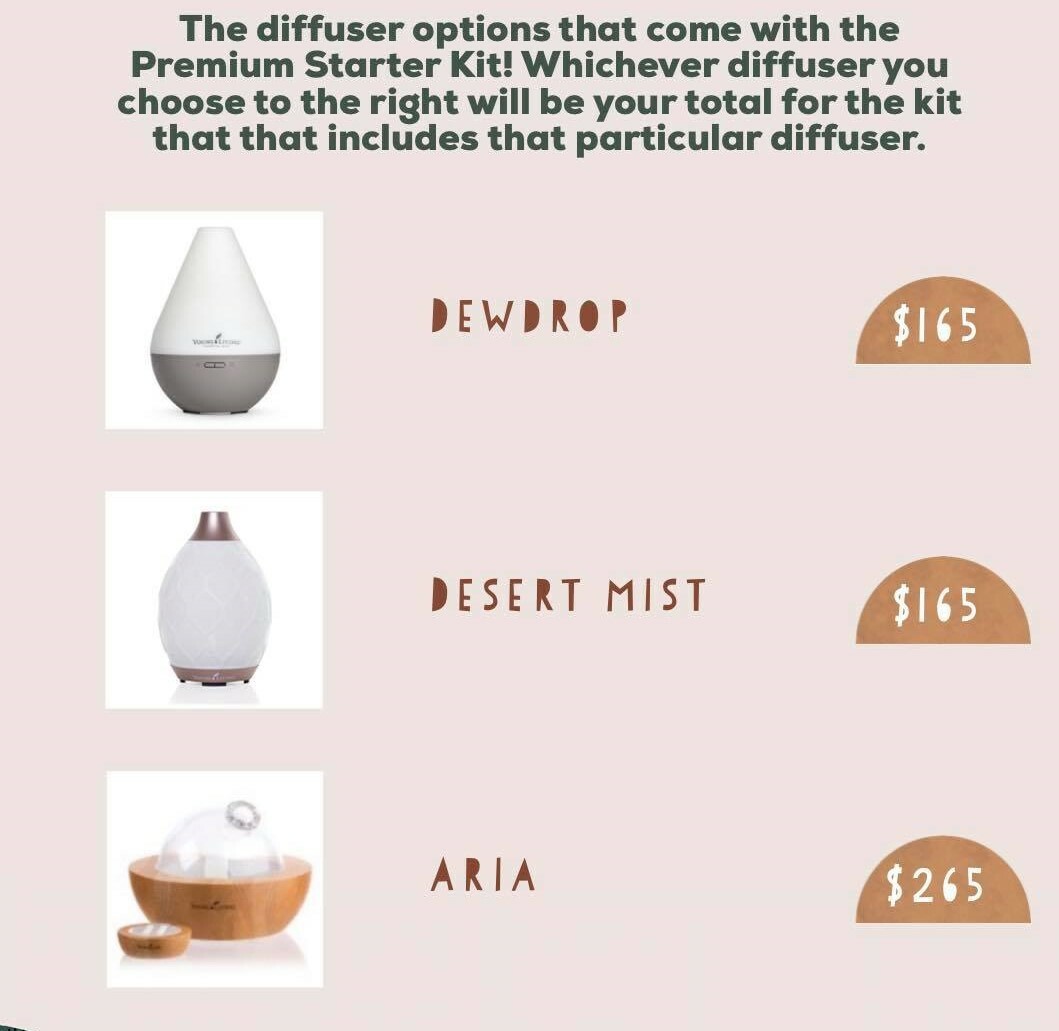 The Thieves Premium Starter Kit comes with a 15 ml of Thieves essential oil, 2 Thieves Household Cleaner concentrates, 2 Thieves Foaming Hand Soaps, Thieves Toothpaste, Thieves Mouthwash, 2 Thieves Hand Sanitizers, & 2 Thieves Sprays. This kit is valued at $205 but it is only $125! That is a savings of $80! Start ditching the toxins and switching to plant-based products right away with this awesome kit!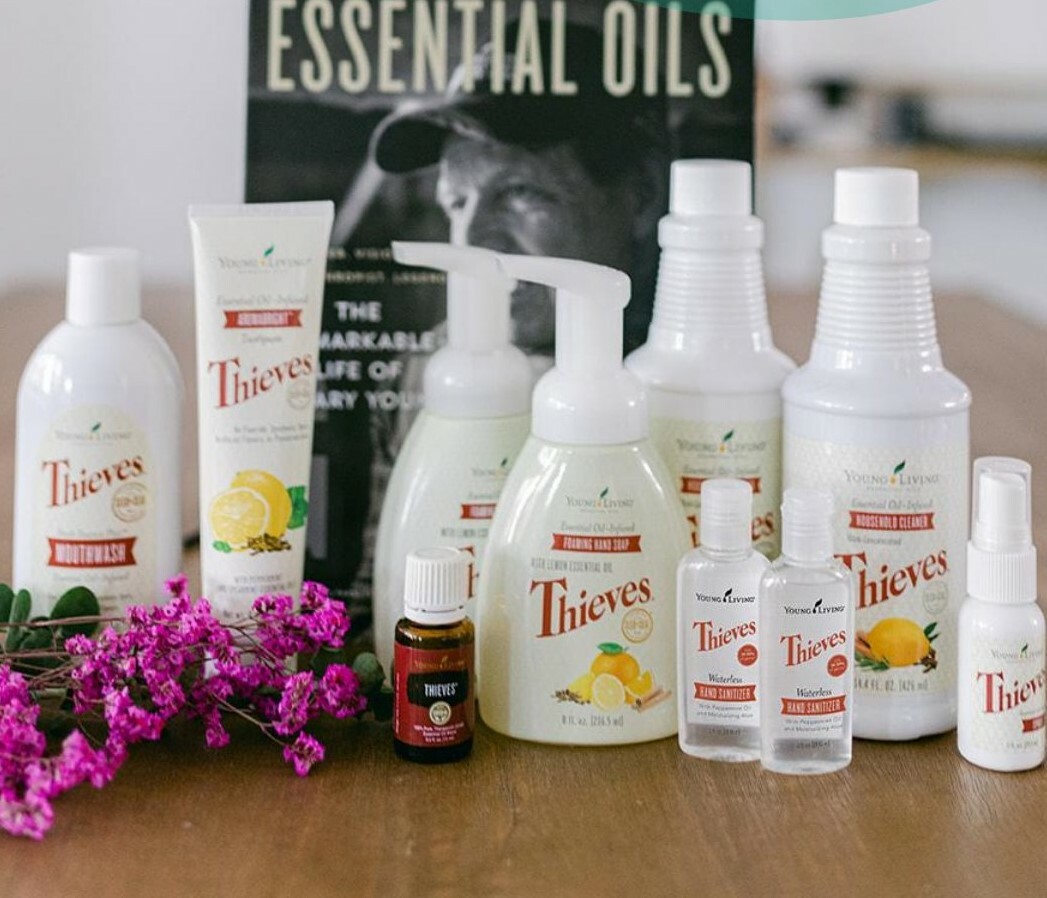 The Welcome Home Kit is available while supplies last and comes with 8 oils (5 ml Lavender, 5 ml Valor, 5 ml Peppermint, 5 ml Frankincense & 15 ml Lemon, 15 ml Tangerine, 15 ml Lime, & 15 ml Grapefruit along with this beautiful bamboo holder for only $125!

This smaller oils kit is a great choice if you are looking for oils but a smaller kit than the Premium Oils Starter Kit!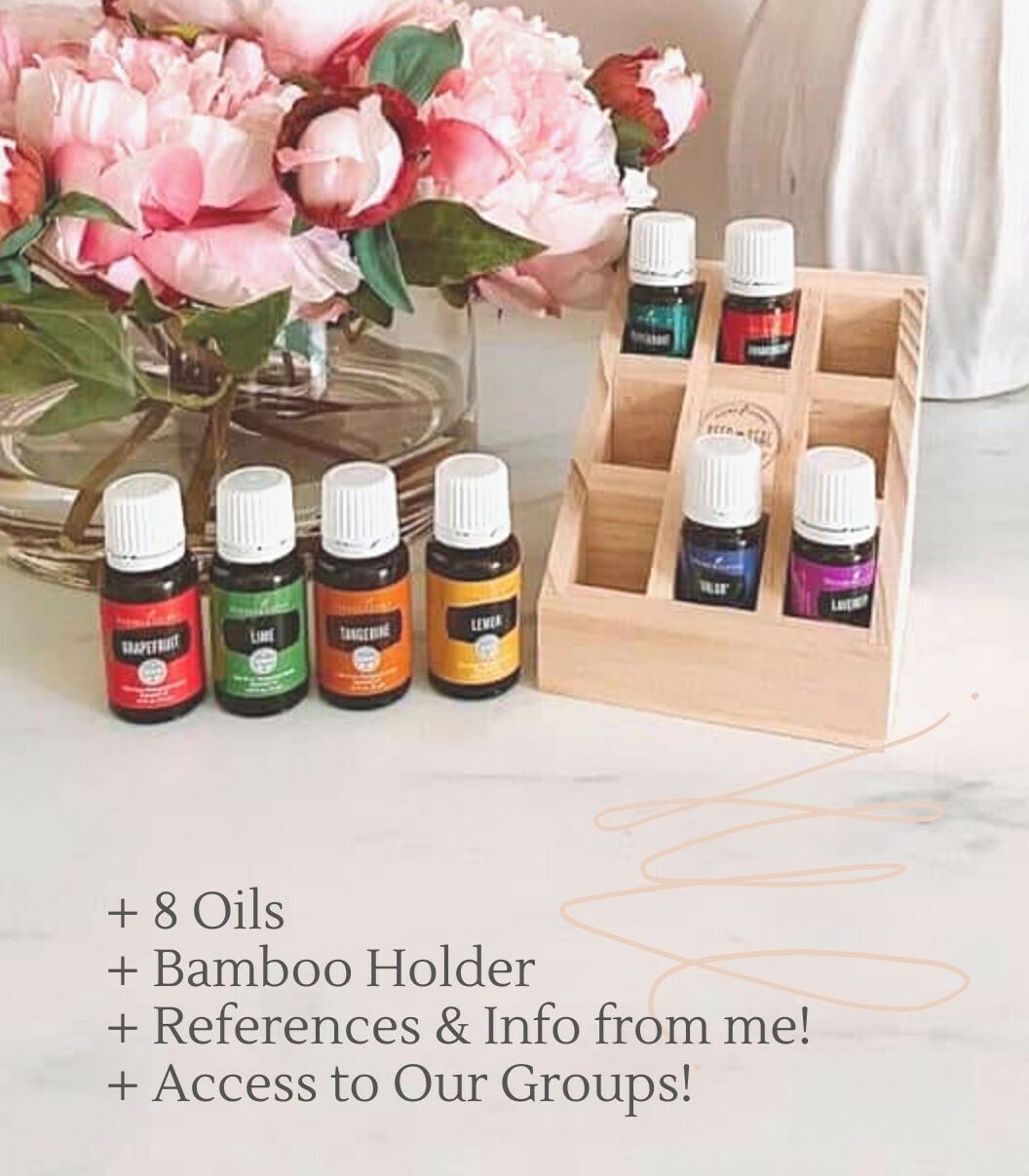 The NingXia Red Premium Starter Kit comes with 2 25oz bottles of this amazing antioxidant superfood drink along with 30 2oz travel packets of NingXia Red & 14 tubes of NingXia Nitro (think energy bullet!) This amazing supplement boosts your energy, supports better sleep, a healthy immune system, supports eye health, and aids in digestion. It has turned my health around 180 degrees! This kit is valued at $261 and is only $135! That is a savings of $126!
The CBD Premium Starter Kit comes with a Calm CBD Roll-on, a Citrus CBD oil, and CBD muscle rub. Nature's Ultra CBD blends

high-quality CBD isolate with essential oils from Young Living for a Smart Spectrum CBD. It provides all of the benefits of pure, potent CBD combined with the best essential oils in the marketplace. There's no other company in the world that uses this incredible formula.

You can choose to get these 3 products in two different strengths.
The Normal Strength CBD Kit is valued at $262 but it is only $165! That is a savings of $97!
The Maximum Strength Kit is valued at $446 but it is only $265. That is a savings of $196!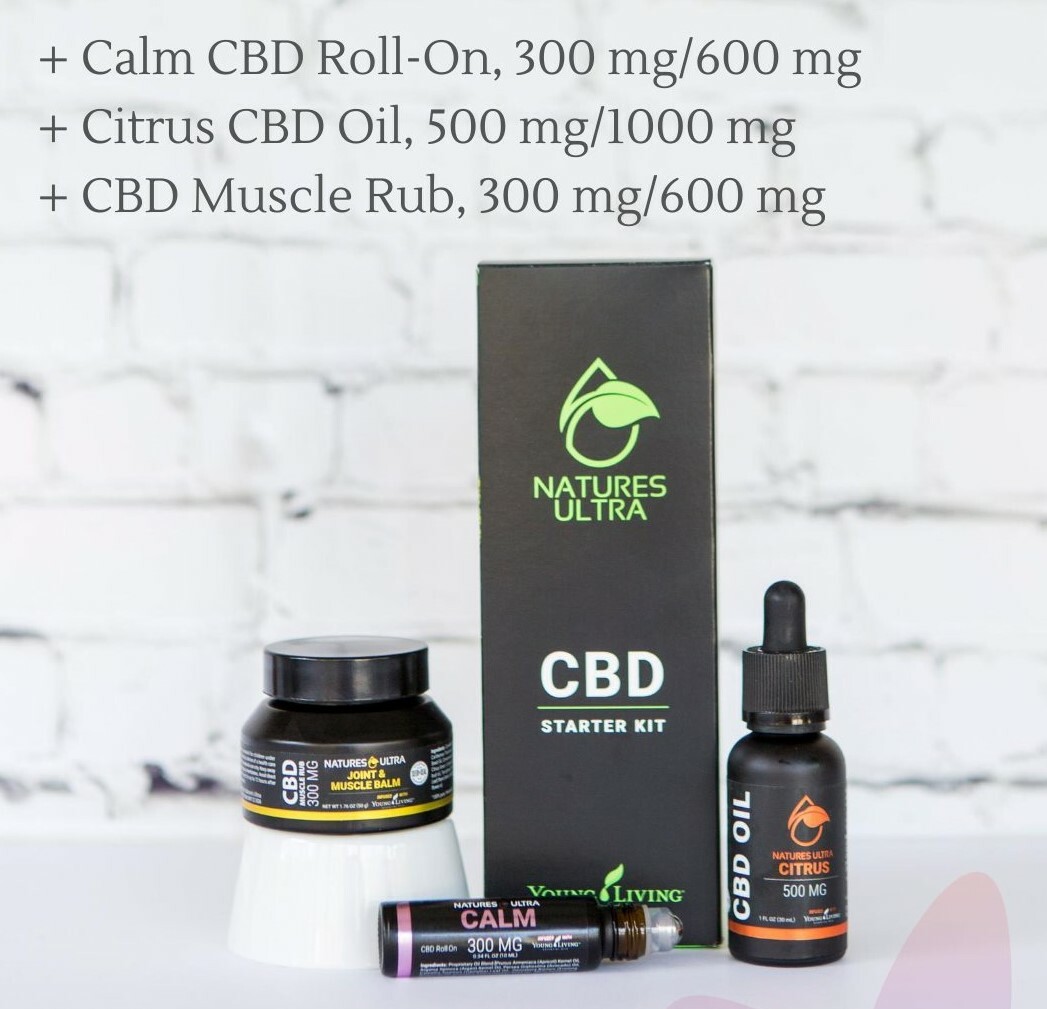 Need help picking out the kit that is best for you?
Message Me
Don't miss out on $10 in points back for more free product!
When you grab your premium starter kit, you can use that kit to sign up for Young Living's loyalty program, Essential Rewards, for no additional cost! When you use your kit to sign up for ER, you'll get an additional $10 back in points to use on future products! All you do is choose what you'd like to get the next month! Just treat it like your wishlist! You can change your order at any time before your order is processed in a month and you do not pay for the second month's order until it processes the next month!
It is a completely optional loyalty program and you can opt out at any time...no fine print! Essential Rewards is the best rewards program ever! What other company will give you up to 25% back when you buy your hand soap, makeup, dish soap, oils, CBD, and antioxidant superfood drink?! I'm getting 25% back in points now plus tons of oils for free! It has saved me thousands of dollars and it's changed our health 180 degrees.




The only qualification to be on er is to spend 50pv a month (pv basically = $ for most of the things in our catalog). You can cancel it at any time.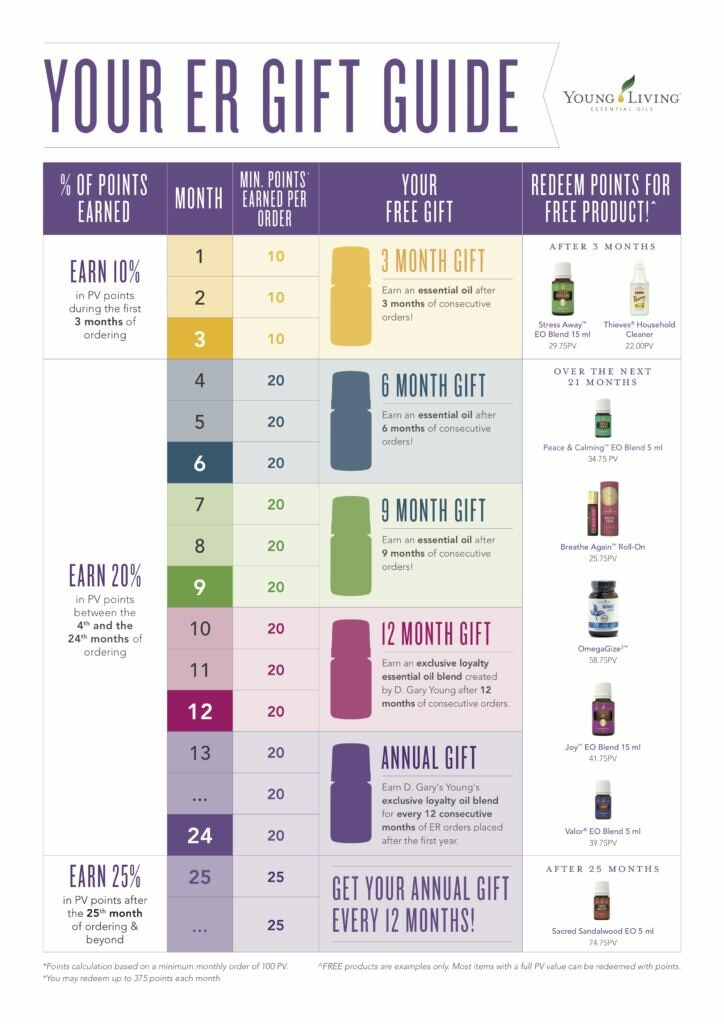 I would love to welcome you to our Young Living family. We have an amazing and supportive Facebook community that is a wonderful place to ask all your questions! Every month, we have special classes on a variety of topics for both long-distance members and members close by! We will walk with you every step of the way! You are never alone on this journey <3