Choosing the essential oil company that you feel confident in can be a difficult decision! I wanted to share with you my reasons for choosing Young Living because I know how important it is to have the best when it comes to essential oils.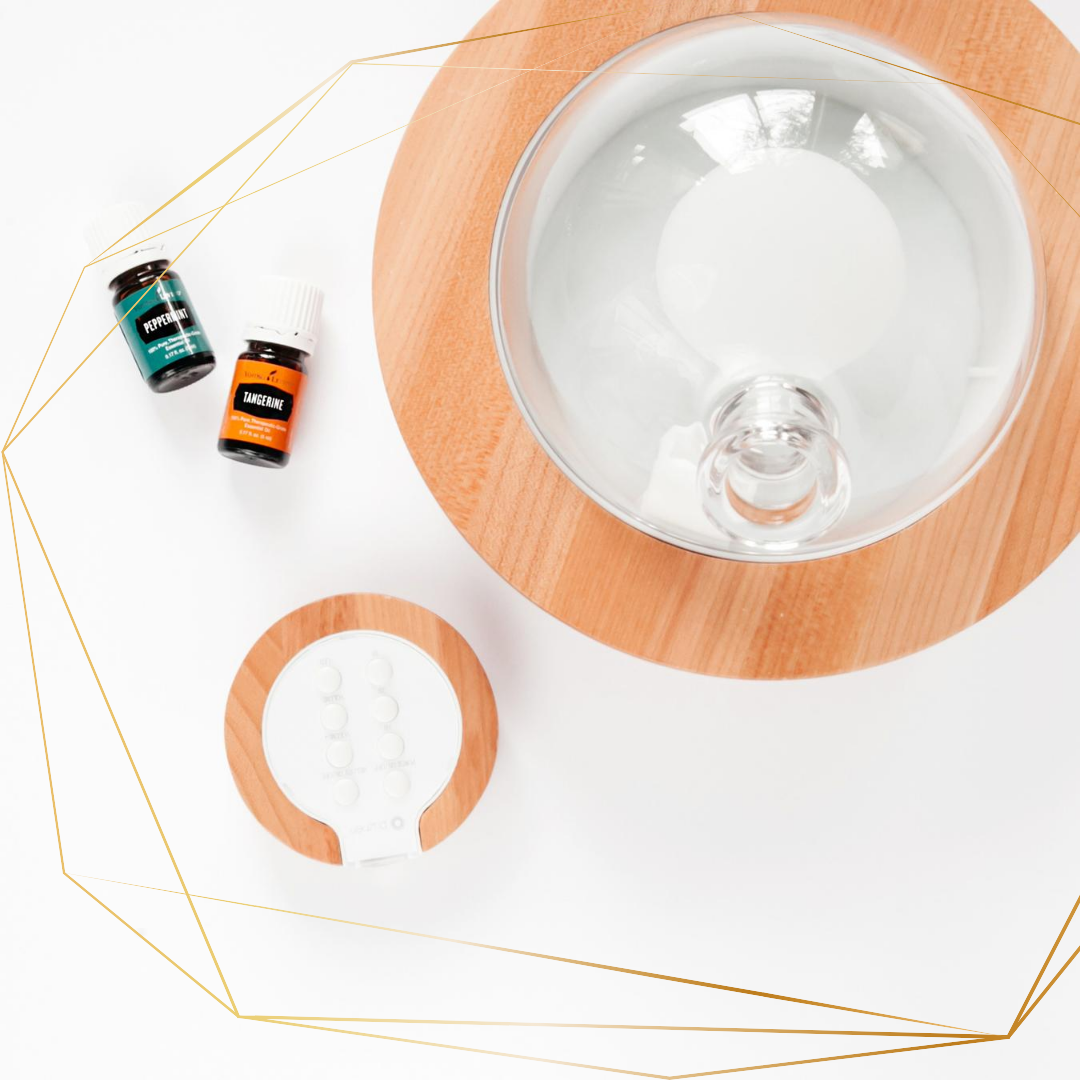 When I decided to get back to using essential oils, I did a lot of research to decide what brand I wanted to use. The first oils I had ever been introduced to in my life were Young Living oils...and after my experience with Thieves I knew that they 100% worked...but it had been about 10 years since I had been active with Young Living and in that time other big companies had popped up that I needed to research too before I made my decision.
I spent a lot of time researching the science behind how essential oils work and I wanted to share why I ended up deciding to choose Young Living again.
My Top Five Reasons Why I Chose Young Living
1.) Young Living has 24 farms worldwide between their
corporate farms and their partner farms.
Any Young Living customer can set up a tour at any of our farms at any time and take part in the planting, the harvest and the distilling! There is nothing hidden at the farms. Everything that Young Living does is very transparent. No other essential oil company owns their own farms, much less lets you visit a farm and see how everything is done.
Young Living is in complete control of everything that happens on the farm from the time the seed is planted to the time the plant is harvested and then distilled. Young Living farms must be 100 years chemical-free...USDA Organic standards is 7 years. There are no weed killers or fertilizers used on their farms. Instead their farms are hand-weeded or weeded by sheep! Young Living doesn't use city water either in the distilling or treat their water with chemicals. This is extremely important. Because essential oils are sooo concentrated, any chemicals that are on the plants or in the water end up being very concentrated as well in the essential oil and that essential oil is contaminated by toxins that can harm our cells.
Here Gary Young, the founder of Young Living explains how oils are distilled and more about the water and special techniques that Young Living uses to preserve the quality of our oils.
2.) Young Living guarantees that every single product, from essential oils to supplements to mineral makeup, adheres to the
Seed To Seal Standard.
The Seed To Seal Standard is built on the pillars of Science, Sourcing, & Standards. Young Living makes sure to adhere to the strictest standards in regards to all three. Our ingredients are guaranteed to be toxin-free and uncontaminated by chemicals and heavy metals. Young Living works to improve and protect the integrity of the earth and obey all laws and regulations surrounding the plants from the various countries and continents that our oils are coming from. Science is taken very seriously in Young Living and all our products are well-tested by over 50 scientists as well as third-party testing.
3.) Young Living runs the most tests per batch of oil of any essential oil company. It's really incredible. Young Living has about 18-20 different tests that they do on every single batch of oil. They run these tests not only once each, but in triplicate (three times) twice, once when the oil is first distilled and second right before the oil is bottled to make sure there has been no tampering or changes with the oil. Call any other essential oil company and the most tests that they will tell you is 7-8.
This is a short video by Dr. Mike Buch on a few of the tests that they run in the Young Living R&D lab! Young Living employs over 50 scientists to run all the tests on their wide variety of products to make sure that every ingredient is free of contamination from chemicals and heavy metals.
Below is an email I received from Young Living Product Support when I asked them the names of the different tests that they run on their essential oils.
"Quality starts at the farm and is proven in our labs. Through our stringent, unyielding quality benchmarks, we are able to identify the most pure, genuine, and effective ingredients.
Our quality control team uses a battery of physical, chemical, and microbiological scientific tests to measure the exact components and properties of our essential oils. Each test is repeated numerous times during the quality process. Testing begins at our farms and continues all the way through the final stages prior to shipment to our customers.
Our team of highly trained, highly skilled scientists perform state-of-the-art tests, including but not limited to:
Densitometry

Viscometry

Refractometry

Polarimetry

Inductively Coupled Plasma Mass Spectrometry (ICP-MS)

Inductively Coupled Plasma-Atomic Optical Emission Spectrometry (ICP-OES)

Gas Chromatography (GC)

High Performance Liquid Chromatography (HPLC)

Fourier Transform Infrared Spectroscopy

Automated Micro-Enumeration

Disintegration

pH

Microscopy

Combustibility

Flash Point

Gas Chromatography Mass Spectrometry (GCMS)

Chiral Chromatography

Isotope Ratio Mass Spectrometry (IRMS)
While our labs can conduct all of these tests, we routinely use our third-party labs to supplement our internal testing. Each of these labs have highly skilled and trained scientists."
4.) This is one of the best videos on the subject of what sets YL apart. Jen O'Sullivan is an aromatherapist who has personally tested around 20 different brands on herself using a variety of tests to see which ones lasted the longest and worked the best. Young Living far outshown the other brands in all her tests and it is the only brand she will use now. This video really shows why YL is unique to any other oil brand out there in how they treat their farms and their plants. It is fascinating! If you don't watch any other video here, take a minute and watch this one!
Jen O'Sullivan also wrote an excellent
book
on how to choose an essential oil company for you that I highly recommend!
5.)
Ningxia Red!
Ningxia Red
! One of the products that is exclusive to YL is NingXia Red. It is hands down one of my favorite products they sell. This product alone has changed my health 180 degrees. I used to be exhausted all the time, my immune system was extremely weak, and I craved sugar like it was air. After I started drinking NingXia Red, I got my energy back, my digestive system began regulating itself again, my immune system became stronger and stronger and I stopped craving sugar. It has changed my life. I am so so thankful I chose Young Living even if this was the only thing I ever bought!
Check out this short video showing red blood cells before and after NingXia Red! It will blow your mind!
Here is a short video sharing the history and how NingXia Red is made!

After I had learned all this information in my research, my choice was clear. Young Living is the only oil company for me and I am so thankful I made that decision. I have since met other people who used other well-known essential oil brands and then tried Young Living and were blown away by the difference.
I will never buy any other oils besides Young Living...they simply aren't worth it... My husband is extremely sensitive to many chemicals and his nose is very fine tuned to them...he has smelled many other brands that were supposed to be 100% pure and therapeutic and he immediately got a migraine after smelling them that lasted the entire day. He could immediately tell that the oils were adulterated. That has never happened with any Young Living oil...it is the one company that I know I can 100% trust.
Our health since using Young Living essential oils and toxin-free products has changed considerably! We no longer feel brain fog, low on energy, get migraines or headaches, or sick all the time. I feel younger and healthier than I felt 5 years ago. It has changed our lives...and it will change yours too!
Ready to try out Young Living for yourself?
P.S. Don't forget to message me for your welcome gift!
xo Rachelle
---
P.S. There are lots of perks to becoming a part of my Young Living family. I am passionate about educating you to use your oils, not selling you stuff you would never use. - Check out these customer perks!