Not all oils are created equal...I have tried a variety of other brands in various ways...and I do not get the same experiences with other brands. Spending your money on quality oils is the only way that your money doesn't go to waste because using your hard-earned money on other oils is like throwing your money away.
If you can't afford the quality essential oils you want to bring into your home, save up...sell some things in your home...but don't settle for anything less than the best. It will make the difference between getting results and not getting results.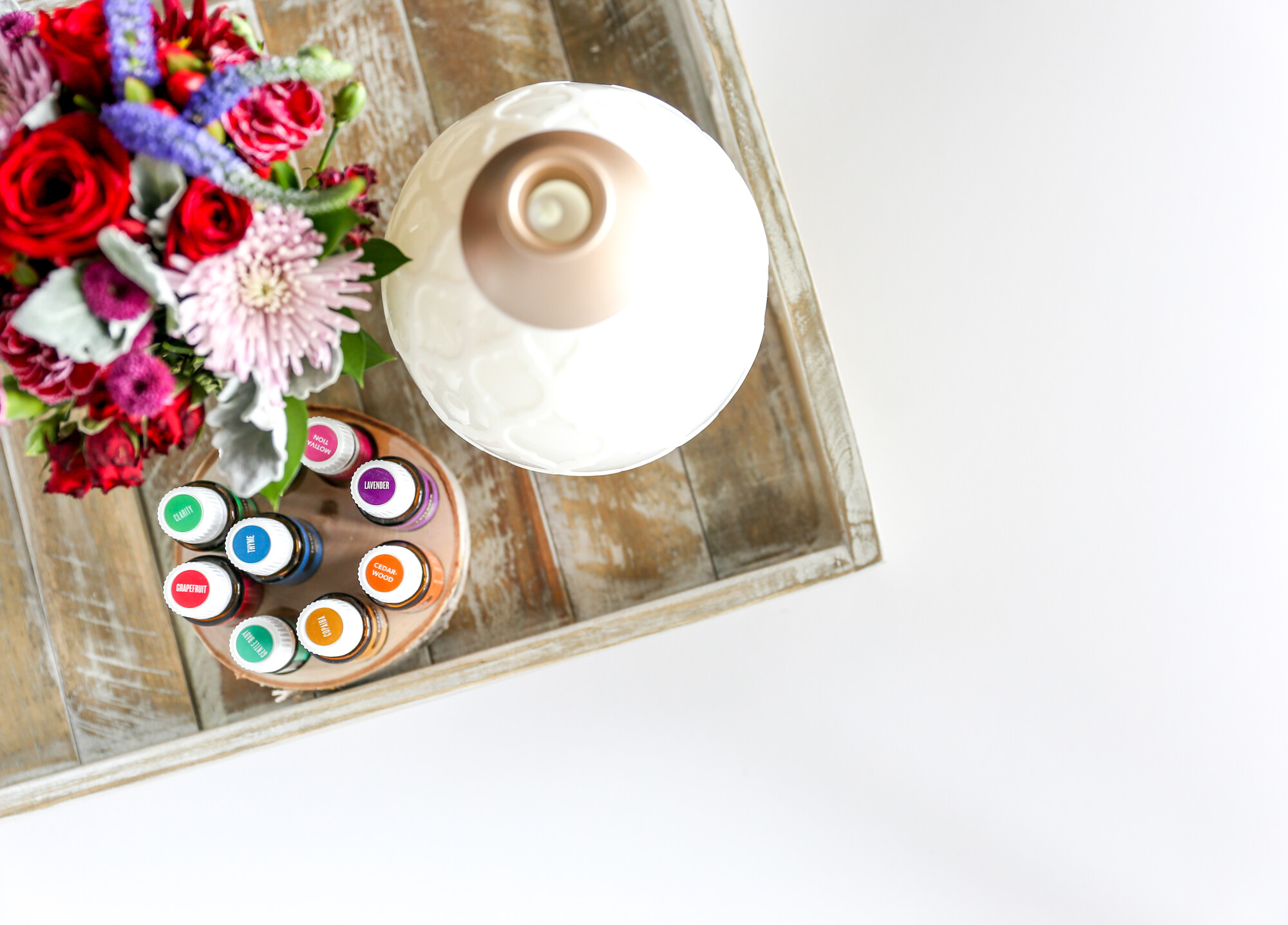 The reason why I have essential oils in my home is because I use them to support our health and save me money by helping me keep my family healthy and not in the doctor's office all the time for non-medical emergencies. I am 100% in favor of going to the doctor for medical emergencies, just to be clear. But before we started using oils regularly, EVERY SINGLE TIME my husband got a little cold, he would ALWAYS end up with a terrible sinus infection and we would end up in the urgent care having to get antibiotics. Having quality essential oils in my toolbox has saved us $100's of dollars because we haven't had to go to a doctor or urgent care for a cold in years!
It is so important to choose an essential oil company that you feel confident in because when you need an essential oil to work, you need it to WORK and FAST. You don't want to be stuck with an oil that actually doesn't do what it is supposed to. And yes, there are a LOT of brands like that out there...spending your money on an essential oil that doesn't work is simply just a waste of time and money. I'm sure you hate wasting money as much as I do! That's why I want to help you spend it where it counts and stop getting subpar oils when you think are getting the real deal.
I have been studying the science behind how oils actually work in the body for three years now and I can tell you without a doubt, that the growing process, the harvesting process, and the distillation process plays a huge role in how an essential oil will actually work in the body. We will get more into the science behind creating essential oils in a little bit.
These are some of the things that I regularly hear from people in my Young Living family who used to use another major essential oil company.

---
Why Does It Matter So Much?
Because the constituents of the oil will only be correct if the plant is distilled at the exact right time and the exact right temperature. The therapeutic benefits of the oil ALL depend on the right constituents being in the oil in the right ratio.
Dr. Doug Corrigan is an amazing scientist with a
Ph.D. in Biochemistry and Molecular Biology...he studies all of this for a living and used to design and create drugs for drug companies before discovering the power of essential oils. He wrote this paragraph below to explain the science of distilling.
"One thing I like to use as an example is distilling expertise. You could have the most organically grown plant you can think of, and not know the details on how to distill it properly, and end up with an inferior oil (therapeutically speaking). If I take two identical lavender plants (which we all know is hypothetical, since YL's plants are superior also), and distill one in an inferior distilling apparatus, OR at the wrong temperature, OR for the wrong amount of time, I will get an oil with less chemical constituents to it. This affects the therapeutic quality of the oil. If even a few constituents are missing, it becomes a completely different oil therapeutically speaking, since the constituents give the oil is precise action.
Gary Young has been taking notes on how to distill every oil he makes for 30 years. He knows what works. And he doesn't tell anyone besides a select few who need to know how he distills. Also, as far as I know, YL is the only company who uses cone shaped Stainless steel distillers (most don't even distill their own oil, period). Big difference. Again, constituents that might not otherwise be there effectively pulled out!"
Here is an example from Dr. Doug Corrigan again about Sacred Frankincense.
"Boswellic acids are triterpenes with molecular weight close to 500 AMU (and thus have low volatility). Research has shown that hydro-distillation at a temperature of 100C for 11-12 hours will produce Boswellic acids in the essential oil at a concentration of about 3% in the final oil. Distilling for a time less than this produces very little Boswellic acid.
Also the best method to measure Boswellic acids is HPLC, not GCMS (due to their low volatility).
Young Living uses this method to generate Boswellic acids in their Frankincense."
Another example is Cypress...Cypress when it is distilled at the exact right temperature and the exact right time, it has 288 therapeutic components. If it is distilled 10 degrees hotter or 10 degrees cooler, the oil only has 11 therapeutic components. That is crazy! That is a loss of 277 therapeutic components. This is why it is SO important that the company you choose has had lots of experience and science behind their distillation process. Just throwing some plants into a distiller is not going to create a good oil.
---
Rectification is another thing to be aware of when you choose an oil company. Rectification...what does that even mean?
Rectification is a correction that is made when a batch of essential oil smells different than the previous batches. This is often the case with natural products because of variations in growing conditions such as rain, sunshine, temperature, soil conditions, and harvesting conditions. You would not expect every single apple you eat to taste the same. Because we get used to a particular aroma, if it is coming out of a product in a bottle, we expect it to smell the same as the last bottle. When a bottle comes to us that smells different, we call customer service to get our money back as something must be wrong with this batch.
The truth is, each essential oil batch should smell different. Slight variations to even more pronounced variations should be common. Since the industry knows the general public will not like these variations, almost all companies practice rectification. Rectification is when they add in molecules from another species or from a synthetic in small amounts to make it match not only the gas chromatography mass spectrometry report, but also to match the aroma from the previous batches for consistency. These additions are impossible to detect on a certificate of analysis report and even the most trained eye can miss the addition of synthetics or other species present in the batch. It is why organoleptic testing is a very important part of the the batch test process.
Every peppermint oil that I've gotten from Young Living has smelled slightly different...and so do the other oils but I notice it most with Peppermint. I thought there was something wrong until I figured out that other companies do rectification while Young Living does not.
---
When choosing an oil company, you also want the company you pick to have the highest level of testing equipment possible.
Young Living has one of the most expensive pieces of lab equipment on the market that is able to detect the tiniest amount of heavy metals. In fact, Young Living has rejected thousands of kilos of oil that tested with trace mercury in it while another well-known competitor without our equipment bought it and sold it to their customers.
Young Living rejects 51% of what partner farms deliver after we teach them our methods because they don't meet our Seed to Seal standards. They go somewhere, but not to us.
Below is an email I received from Young Living Product Support when I asked them the names of the different tests that they run on their essential oils.
"Quality starts at the farm and is proven in our labs. Through our stringent, unyielding quality benchmarks, we are able to identify the most pure, genuine, and effective ingredients.
Our quality control team uses a battery of physical, chemical, and microbiological scientific tests to measure the exact components and properties of our essential oils. Each test is repeated numerous times during the quality process. Testing begins at our farms and continues all the way through the final stages prior to shipment to our customers.
Our team of highly trained, highly skilled scientists perform state-of-the-art tests, including but not limited to:
Densitometry

Viscometry

Refractometry

Polarimetry

Inductively Coupled Plasma Mass Spectrometry (ICP-MS)

Inductively Coupled Plasma-Atomic Optical Emission Spectrometry (ICP-OES)

Gas Chromatography (GC)

High Performance Liquid Chromatography (HPLC)

Fourier Transform Infrared Spectroscopy

Automated Micro-Enumeration

Disintegration

pH

Microscopy

Combustibility

Flash Point

Gas Chromatography Mass Spectrometry (GCMS)

Chiral Chromatography

Isotope Ratio Mass Spectrometry (IRMS)
While our labs can conduct all of these tests, we routinely use our third-party labs to supplement our internal testing. Each of these labs have highly skilled and trained scientists."
Young Living runs each of these tests multiple times for each small batch to make sure that all the tests are accurate.
---
Here is a helpful brand comparison chart from Jen O'Sullivan, a certified aromatherapist who has personally tried 20+ brands of oils and compared them with her own set of tests as well as called each company to find out about their company.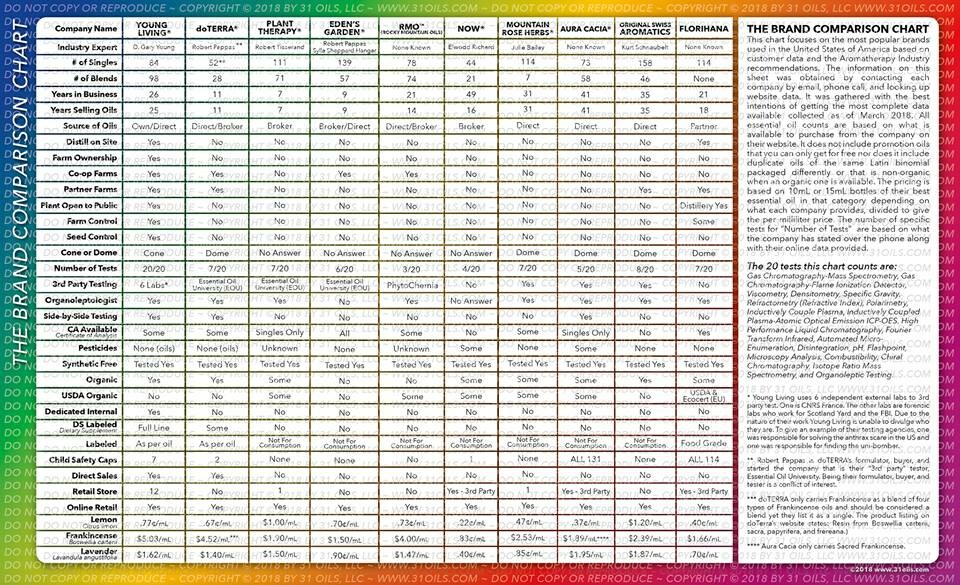 ---
This picture was taken at a Young Living convention where a farm manager from one of our farms educated us on healthy vs. unhealthy plants! They are extremely knowledgeable about their craft and very passionate about taking care of the plants. They know that when you take care of plants, they take care of you.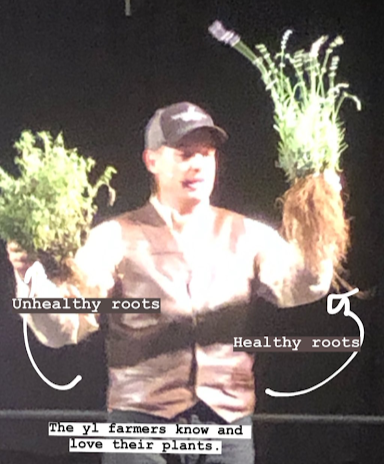 ---
A gal named Sarah Goff wrote this on a public forum...she called 15 essential oil companies to ask them some questions...Here is what she was told.
I called 15 essential oil companies and asked if I could tour their farms to see how the essential oils are made.
Here is a list of the company, phone number, and answer.
1. NOW essential oils: 888-669-3663, they do not grow their own plants. This either means that their "oils" are made in a lab or they buy plants from random farms.
2. Piping Rock Essential Oils: 1-800-544-1925, the representative told me no. She did not give me any explanation.
3. Aura Cacia essential oils: 1-844-550-7200, the rep said that they do not grow their own essential oils. She would not give me the names or numbers of the farms where they buy the plants.
4. AnimalEO: 320-286-3277, the mailbox was full.

5. Mountain Rose Herbs essential oils: 800-879-3337. The rep said I cannot see the farms because their plants are sourced. She would not give me the name or numbers of the farms so I could ask them.
6. Edens Garden essential oils: 949-388-1999, the website said to not take the oils internally (Young Living has an entire line of vitality oils that are labeled to take internally). The rep said that she had never received a question like that before and asked to place me on hold. She returned to tell me that they do not own any of their own farms and that I cannot calls those farms.
7. OnePure essential oils: only available by email. They did not respond to my message.
8. Healing Solutions essential oils: 1-800-819-4098, the rep had to place me on hold. He returned to say that I cannot see the farms. He said that the company is not equipped for face-to-face consultations.
9. Gurunanda essential oils: 866-421-0309, the rep told me that they source their oils and that I cannot see the farms.
10. Plant Therapy essential oils: 800-917-6577, the rep told me that they do not own their own farms and I would not be able to take a tour to see the plants or oils be made.
11. Rocky Mountain essential oils: 1-866-493-8159, the rep said that they do not own their own farms. I quoted, "We do not have any direct correlation with the farms, so it would be impossible for us to set anything up."
12. doTERRA essential oils: 1-800-411-8151, the rep had to place me on hold. He said that I can only come on tours that are offered Monday, Wednesday, and Friday at 10:30, 12:30, and 2:30. I told him that did not work with my schedule, and he was not sure how to respond.
EDIT
after receiving more questions, I called doTERRA again on 2/8 at 10:03 am.
DoTERRA does NOT LET PEOPLE TOUR THE FARMS!!!!!!
The dates and times listed above are only to tour the HEADQUARTERS. NOT THE FARMS. They told me I cannot see the farms.
[According to doterra's website, they do not own any farms ]
13. Jade Bloom essential oils: 1-844-787-3645, after listening to a long message, they do not take phone calls. I emailed and asked to see the farms. They have not returned my email.
14. Melaleuca essential oils: 208-522-0700, Mindy Buda actually made this phone call

she said that the rep told her that there are no farms for Mindy to tour. The rep then said she doesn't know where the farms are and cannot give any other information.
15. Young Living Essential Oils: 1-800-371-3515, I called and pretended to be someone who is interested in the oils but not yet a member. I was directed to the Visitor's Center (1-800-371-0819). I was told that I do not need a tour guide or anyone with me while I tour the farms. The farms are open M-F 8am-6pm, Saturday 9-5, and closed on Sunday. She said I can also tour the distilleries where the plants are made into oils.
I feel like these results speak for themselves. I was very emotional after making all of these phone calls and getting answers.
Why do some companies not know where their farms are?
Why wouldn't they give me a phone number?
Why do some companies not have anything to do with how their plants are grown?
Why was I given an answer of "no?"
Why can't I ingest something that I made from plants?
Why do some oil companies make their oils in labs and not from plants?
Why can I only visit a farm WITH a tour guide?
Why can't I go by myself?
Why did every company claims to "set the standard" and have the "highest quality oils available," but they had no part in farming the plants?
Why don't the employees know where or how the product is made?
How can you sell something to someone knowing they are going to put it on themselves/their kids and not know anything about it?
This is proof that Young Living is the best. If you don't believe me, feel free to call the numbers.
---
This is a longer video by Jen O'Sullivan but she is the expert in all of the essential oil brands and it is well worth the listen if you aren't sure which brand to go with.
Ready to harness the power of essential oils in your home?
P.S. Don't forget to reach out to me for your welcome gift!
xo Rachelle
---
P.S. There are lots of perks to becoming a part of my Young Living family. I am passionate about educating you to use your oils, not selling you stuff you would never use. - Check out these customer perks!