There are many ways that you could get started on your toxin-free journey but I want to share with you the simplest and cheapest way I know! Get ready to press the easy button!
This starter bundle is the key to starting your toxin-free journey...with this bundle, you'll be able to ditch all cleaning chemicals under your sink, ditch the toxic hand soap, toothpaste, mouthwash, and hand sanitizer all in one swap for only $135! This bundle has a value of $215 if you bought everything separately but when you buy everything all together, you save $80!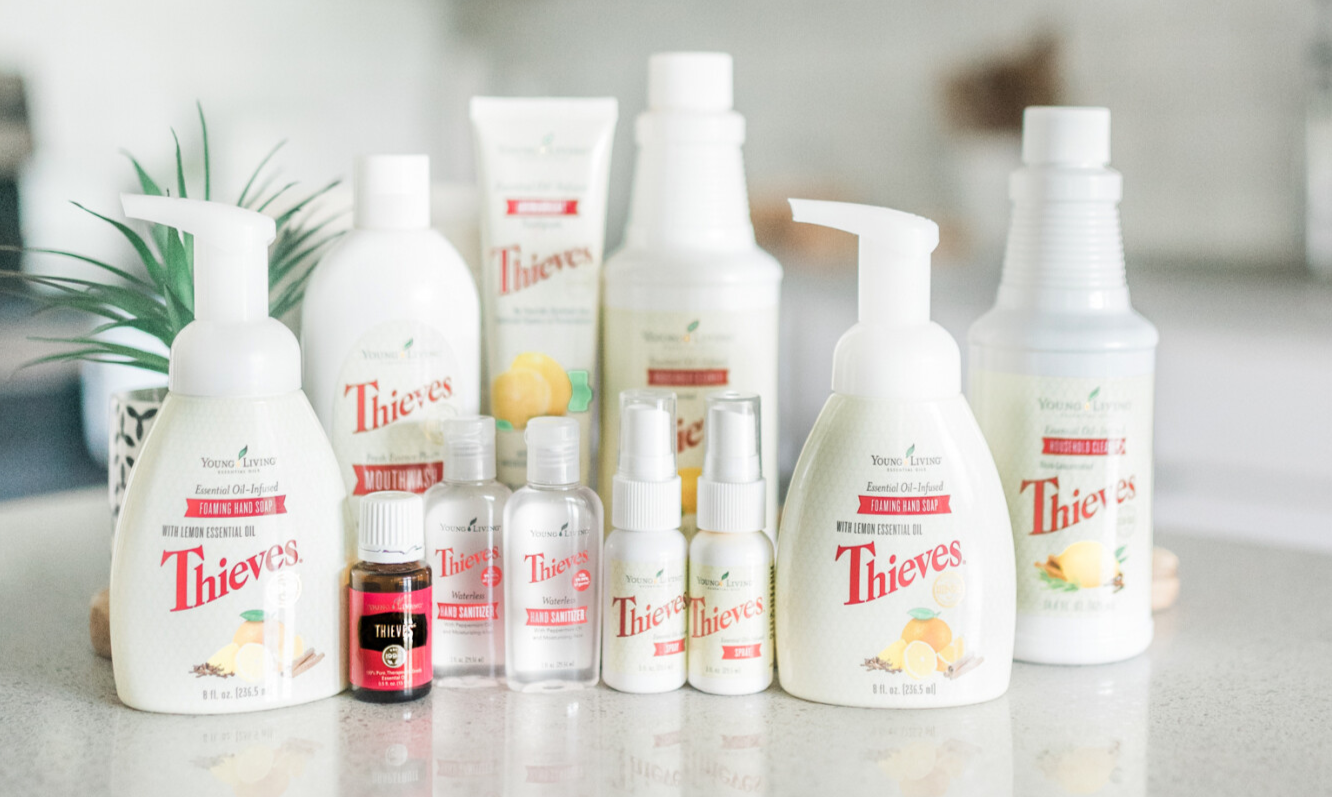 ITEMS INCLUDED
15 ml of Thieves essential oil
2 Thieves Household Cleaner concentrates
2 Thieves Foaming Hand Soaps
Thieves Toothpaste
Thieves Mouthwash
2 Thieves Hand Sanitizers
2 Thieves Sprays
Let me break this bundle down for you so you can see how you would use each item and how you can use it to save money while ditching the toxins!
Thieves Household Cleaner
First, you get two bottles of Thieves Household Cleaner! This cleaner is incredibly concentrated! You only need one capful to make a 16oz multi-purpose spray that you can use to clean your entire house! It's less than $1.50 per spray bottle!
Talk about the cheapest, cleanest plant-based cleaner you can buy!
So your next question is "Does it work?"
Check out these pictures...
You can use Thieves Household Cleaner to replace every single bottle of cleaner in your home! Here are 10 ways to use it!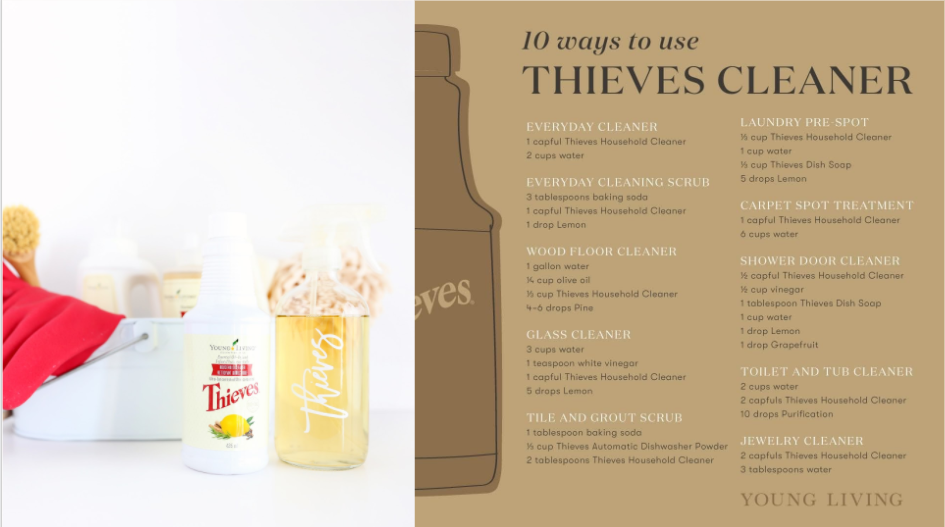 Thieves Foaming Hand Soap
Second, you get two Thieves Foaming hand soaps! Once you grab your bundle from me, I'll teach you how to make these hand soaps last 3x as long! That's a total of 6 Thieves Foaming hand soaps! Talk about money saving! You'll love how these soaps smell and don't dry out your hands nearly as fast as the toxic hand soaps! My hands used to crack all the time until I switched to Thieves!
Thieves Hand Sanitizers & Thieves Sprays
You'll love using the Thieves Hand Sanitizers when you are out and about on errands since they kill 99.9% of germs and bacteria and it won't dry out your hands like normal hand sanitizers! The two Thieves sprays are also awesome for putting in your purse to spray down doorknobs, grocery carts, restaurant tables, airplane trays, and anything else you want to purify but can't give a full wipe down on!
Thieves Toothpaste & Thieves Mouthwash
With the starter bundle, you also get fluoride-free Thieves toothpaste and the Thieves mouthwash! I LOVE the Thieves mouthwash because it contains colloidal silver which is very antibacterial along with the powerful Thieves blend. Your gums will be so healthy when you start using the Thieves toothpaste and Thieves mouthwash! Because the Thieves mouthwash is strong, you can hack it to make it last 2-3 times as long as well! It lasts forever!
Thieves 15ml Essential Oil
Then you also get a big bottle of Thieves! I often get asked if you can use Thieves essential oil to make your own Thieves Household Cleaner. Thieves oil and Thieves household cleaner are two different things because the Thieves Household Cleaner also contains other plant-based ingredients that make it excellent on grease and build up along with the Thieves essential oil for killing the bad stuff! If you just add Thieves essential oil to water, you have exactly that...oil and water. It won't work as well for cleaning with.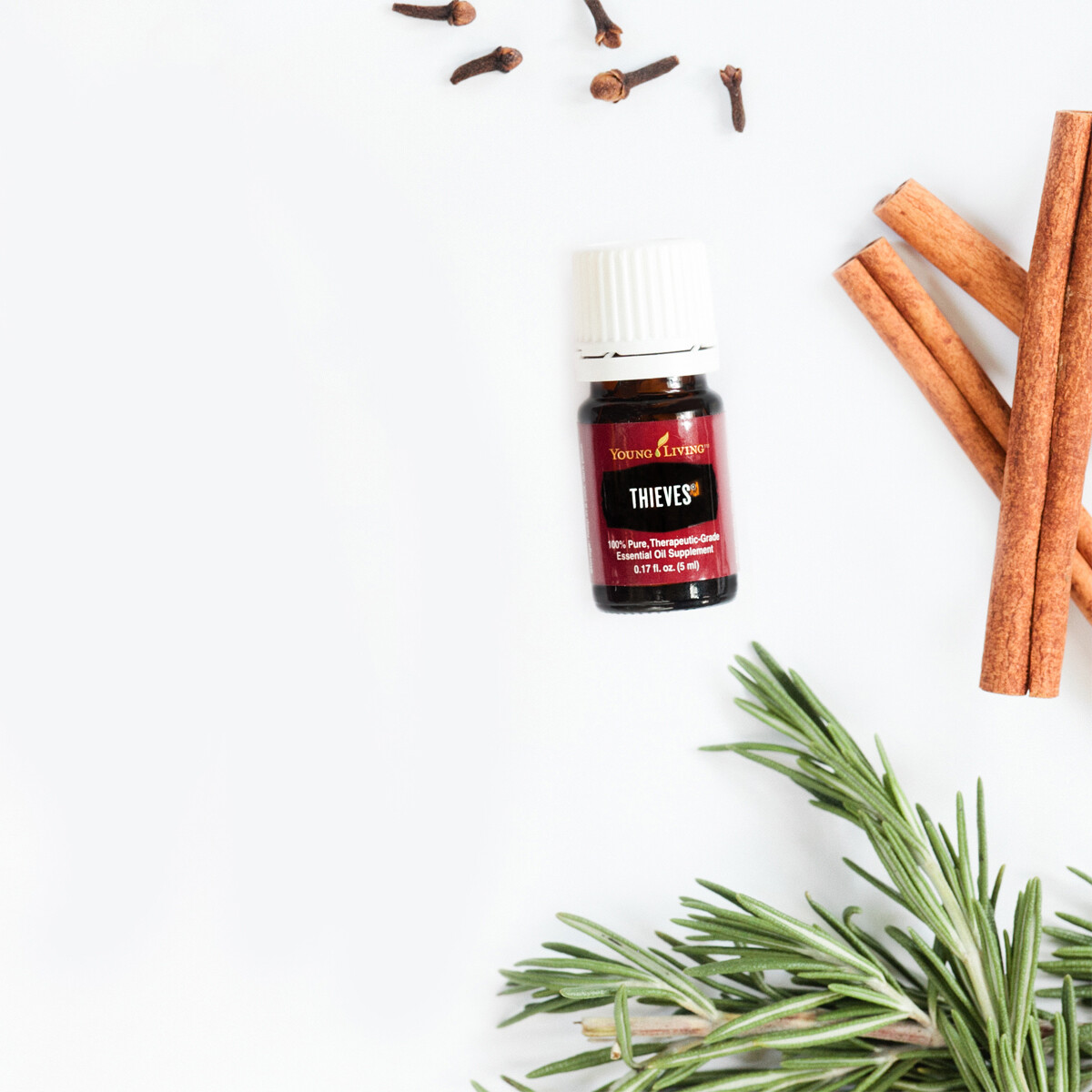 So what can you do with this bottle of goodness? Here are some of my favorite ways to use Thieves essential oil!
Diffuse into the air to kill airborne germs and purify the air.
Place a drop on the bottom of the feet at night to boost the immune system.
Create an immune roller with Thieves, Oregano, Lemon, & Tea Tree for rolling along the spine and feet of children before they go to school or out to a play group.
Add a drop of Thieves Vitality to a mug of hot tea for a boost of wellness.
Place a drop of Thieves Vitality on your tongue and swallow to kill stuff that is causing a sore throat.
Add to a detox bath by putting 3 drops Thieves, Lemon, & Frankincense into a cup of Epsom salts and add to a hot bath and soak for 20-3o minutes.
Place on a washcloth or wool dryer balls to scent your laundry.
Put in a cup of baking soda and sprinkle over your carpet and let sit before vacuuming for a fresh and clean carpet!
The Thieves starter bundle is the best way to get started on your toxin-free journey! After you grab your bundle from me, I will send you a year long plan for ditching and switching that is totally budget-friendly! You'll also get access to my
exclusive member area
with tons of recipes for going toxin-free in every room of your home with hacks and DIY's that are FAST and EASY but will make your budget go farther!
I've got your back, friend. Let's do this together! You are going to be amazed at what a difference you feel in your health and your home when you switch to Thieves! <3
xo, Rachelle
P.S. There are lots of perks to becoming a part of my Young Living family. I am passionate about educating you to use your oils, not selling you stuff you would never use. -
Check out these customer perks!