Are you tired of trading time for money? The thing about time is that it is a limited resource. Working for a boss is just trading your time for money. And you are making someone else at the top lots of money. Are you looking for a way to supplement your income that could turn into a full-time gig, even your retirement?!
Do you have an interest in health & helping people?
Do you enjoy talking to people?
Do you have a fun personality?
Hint: You TOTALLY do!
Do you have a reason for wanting something different in your life?
If you answered yes to any of these questions, the Young Living business opportunity might be for you.
So can you earn real income with Young Living? It's literally the million dollar question.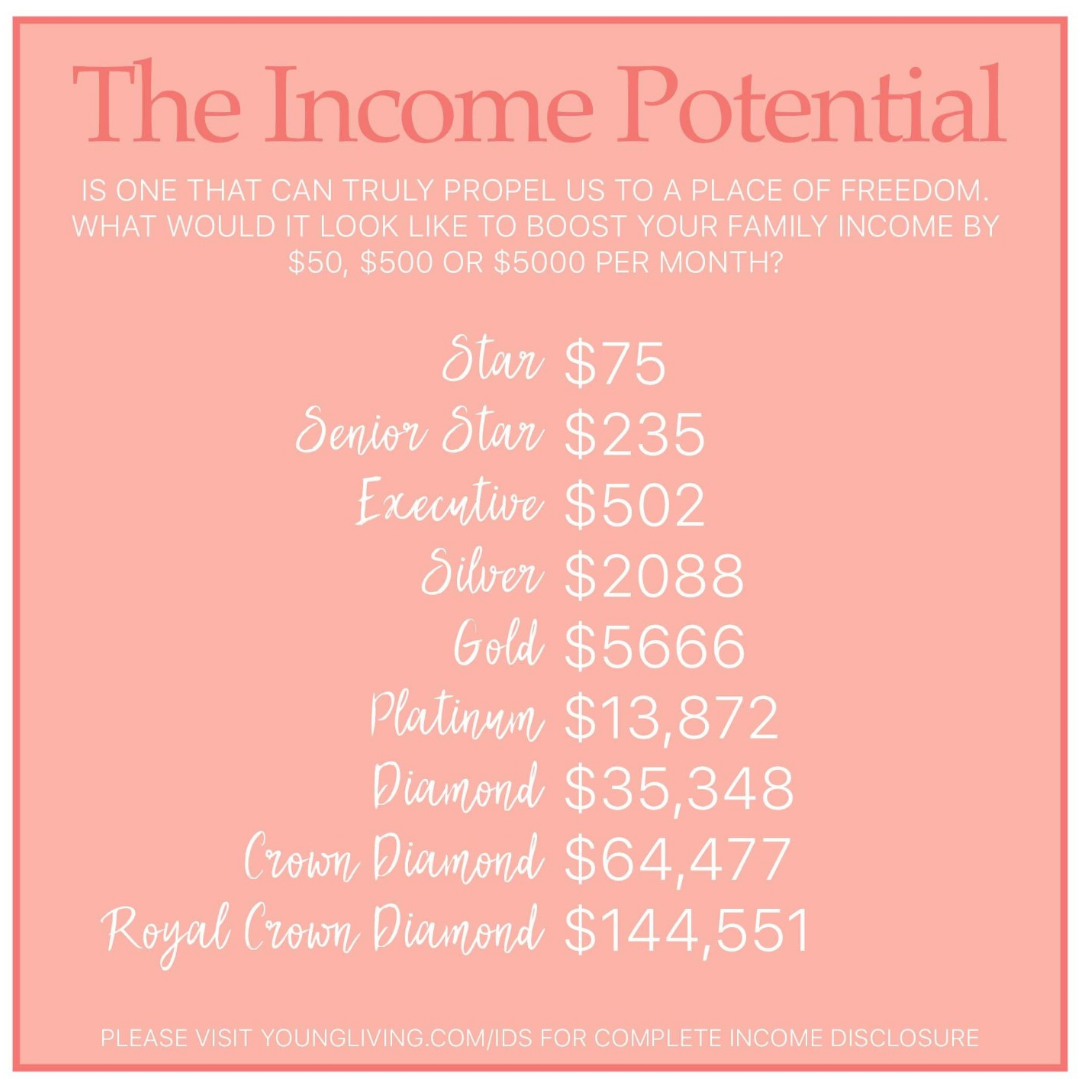 These are actual numbers from actual paychecks. What monthly paycheck would change your life?
My Young Living team is a Silver team with Young Living and we are moving full-force towards Gold! The income opportunity and the paycheck is real!!! And I want to see you finding financial freedom too! It really is possible!! If I can do this, trust me...you can do this!
Here are twelve reasons why Young Living is an amazing opportunity for you!
1.) You can build an additional income stream with one of the best companies out there! Check out this short video by Martha Krecji who is a Marketing Strategist on why she chose Young Living as one of her income streams!
This is
our story
about how why I chose Young Living after starting and quitting multiple businesses...
2.) You can help people live healthier, longer lives by helping them go chemical free in their homes and using products that benefit them! This creates a true sense of purpose in building your business because it's not all about you. It's actually ALL about others and helping them find solutions for the answers they are looking for. <3
3.) Young Living takes you on trips around the world with each rank after Executive! When you reach the rank of Silver and hold it for 3 months, you are taken on an all-expense paid trip to our Young Living farm in Mona, Utah! With its beautiful lavender fields and horses, it is an amazing opportunity to learn more about the Young Living commitment to Seed To Seal! When you hit the rank of Gold, you are flown to our Young Living farm in Saint Maries, Idaho! At Platinum, you earn an all-expense paid trip to our beautiful farm in Ecuador! And when you rank to Diamond, you are eligible for a dream trip EVERY SINGLE YEAR! Young Living Diamond trips have included Italy, Banff, Candada, Greece, Spain, & more! Where would you love to travel on an all-expense paid trip?!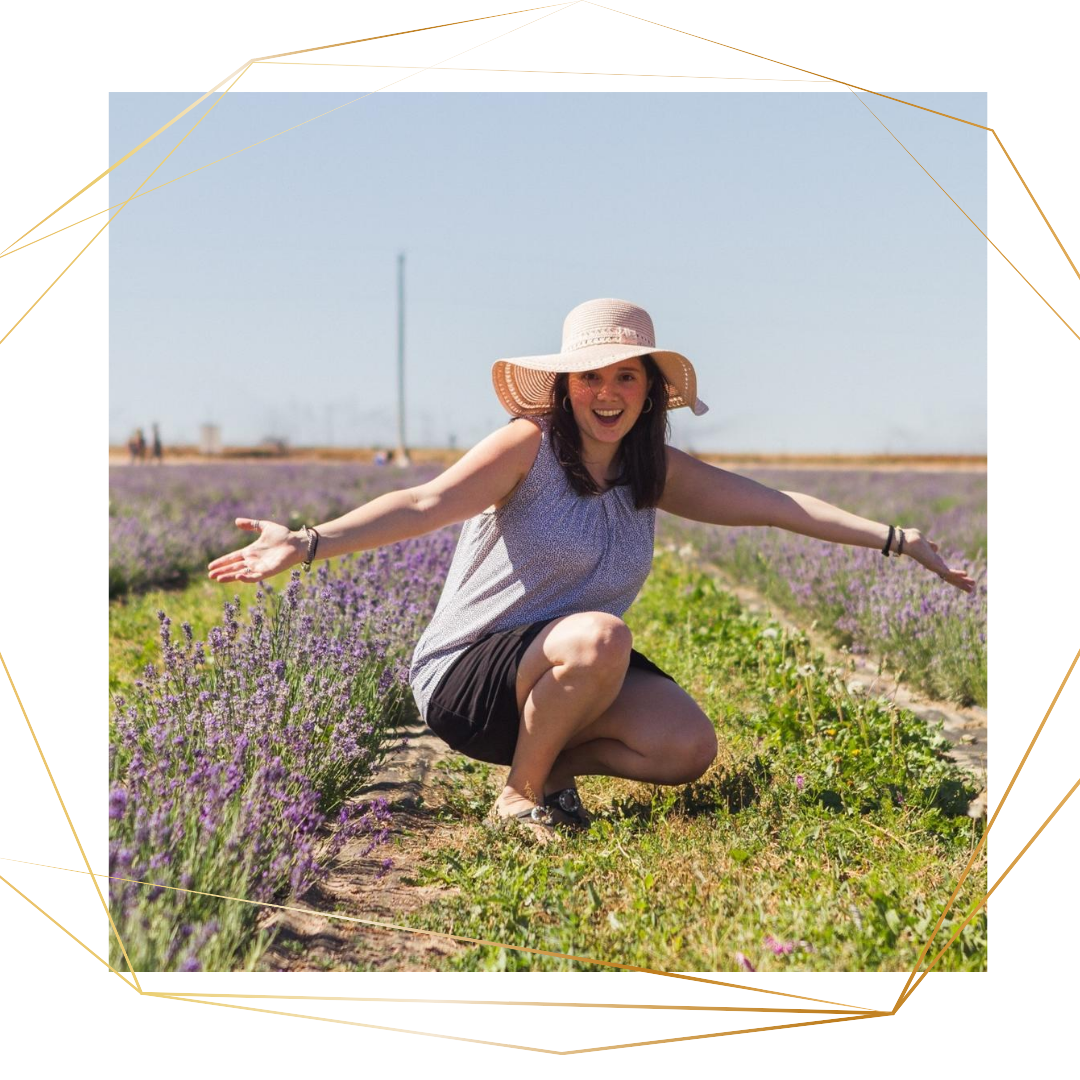 4.) You can get your products paid for! This means that the health products, toxin-free products, and oils that you want for your family, you can get them paid for and help your family's health improve as you are helping other people improve their family's health too!
5.) The business you build can be willed to your kids and your spouse...it's generational income! Once you earn a $3,000 paycheck from Young Living, you can set up your willable income and your entire downline will be willed to the family member you choose...which means they will have a residual income too!
6.) Young Living products are the BEST in class. Young Living is the world leader in essential oils and clean makeup among other amazing products including our exclusive antioxidant superfood drink, NingXia Red and Smart Spectrum CBD with 0.0% THC!
7.) No worrying about employees, paying rent for your storefront, products, shipping, overhead costs, etc. It's sooooo much cheaper to start your business because all you need is a starter kit - that can be $35 - $165 depending on how much you want to save. No overhead costs, no renting a building, no advertising costs, and no shipping costs! Young Living will ship all the products your customers buy straight to them! It's the best thing ever!
8.) You never have to buy inventory. Anything you buy is for you to use for your own family! You don't have to order things just to stock your shelves. You can buy the things that will help your family's health! Simply help other people get their products on their own account!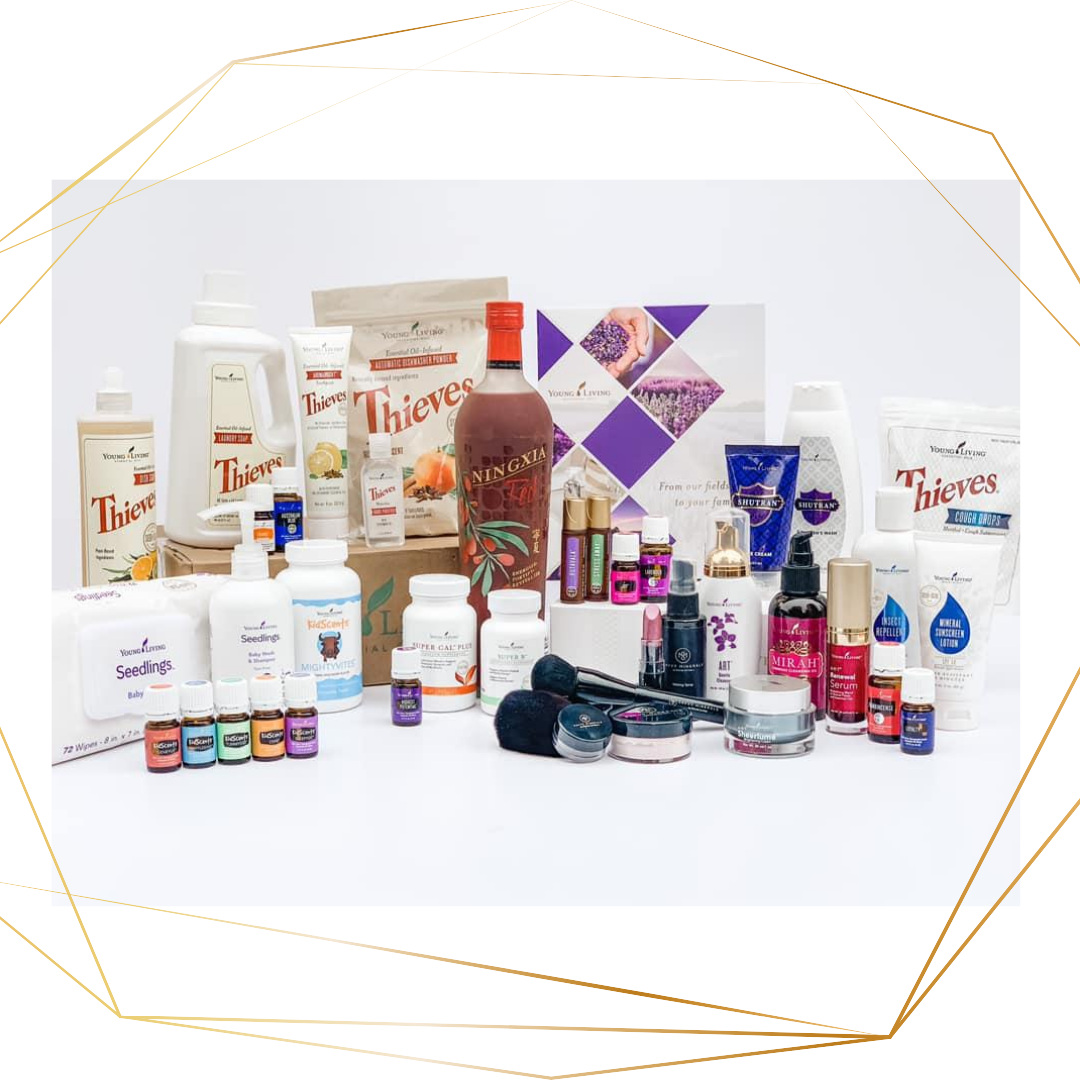 9.) There is a product in the Young Living catalog for EVERYONE! Young Living members get access to over 600 products! This means that whatever someone is interested in, they will fall in love with something that Young Living carries!
The largest selection of the best essential oils, singles & blends of any oil company!
Thieves household products that are powerful & nontoxic!
Luxurious & clean skincare products that are amazing!
Savvy Minerals Makeup, the Standard of Clean Beauty, with over 25,000 ingredients banned!
NingXia Red superfood juice for energy, immune support, eye health, and more!
Smart Spectrum CBD with 0.0% THC but works like a full spectrum CBD!
10.) You will start earning residual income! Residual income is like a monthly paycheck where you did the initial work and then you keep getting paid for that initial work. It's like the royalty on a book or a piece of music or monthly rent from a piece of real estate! The thing is that most residual income opportunities require a lot of upfront cash or a big loan to get started...not this one! And look at how residual income compares to have money in a bank paying you 6% interest each month! It's crazy how awesome it is!!! The paycheck I'm making right now would be the same as if I had about $417,600 saved up in a bank...which I can tell you right now, I do not! Want to learn more about residual income from a certified accountant? Check out this video!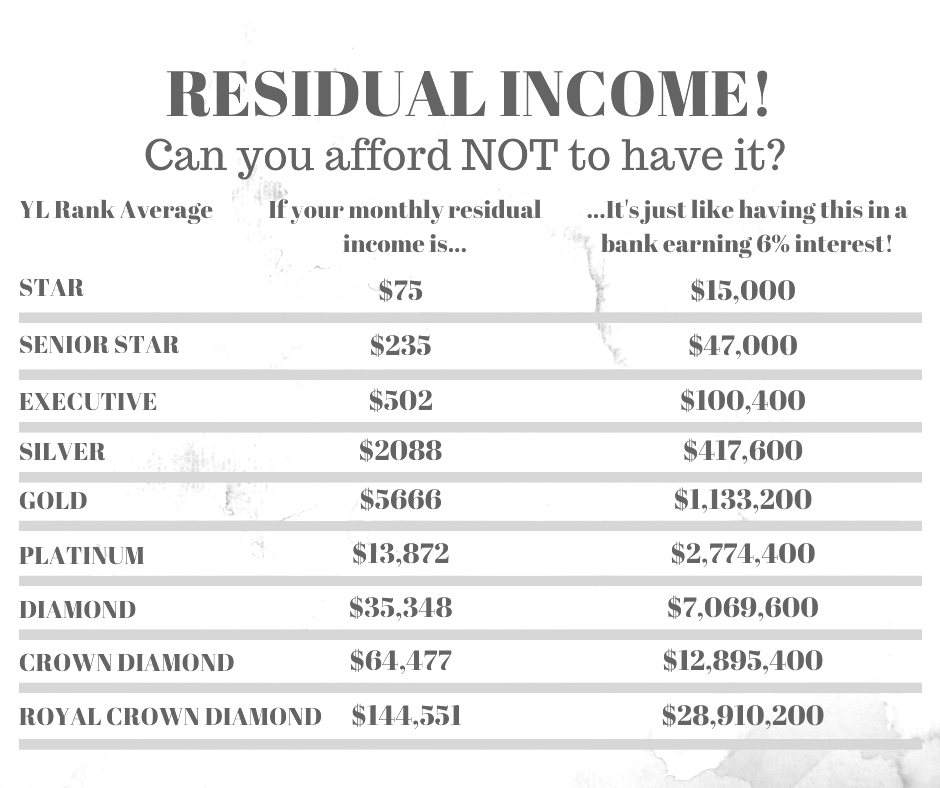 11.)
It is the best opportunity for an average person to make more than an average paycheck.
You can go as far as you want. There is no income ceiling! There is absolutely no limit on the amount of money you can make which is AMAZING!!! You can go as high and as far as you want!
There are actual statistics that show that it is more likely for a woman to make an average paycheck of $70,000 in this career vs. that paycheck in a normal 9 to 5 job. You can check out this video for
more info
regarding that amazing statistic!
12.) You will be a part of an awesome community of people who want to help others and want to live healthy lives.
When you first get started, you actually don't have any idea what this really means...but the longer you stay, the more amazing friends you will meet. Soul-mates that you would never have known if you hadn't started your business...you meet the people who you truly jive with...your tribe...and finding your tribe, the people who will have your back and encourage you every step of the way, is worth more than money can ever buy.
Check out this video by Richard Bliss Brooke, author of The Four-Year Career on
"Why Young Living, Why You, & Why Now"! I promise it is well worth your time.
So what are you waiting for? If you have questions of any kind, I'm here to answer them...no question is a silly or a bad question. I know it's a big decision! I was so nervous and scared to start yet another business...but pushing through the fear and doing it anyway has been by far the most rewarding thing I have ever done. And I'm here to help make it as simple and easy for you as I can.
xo Rachelle
---
P.S. Whenever you're ready... here are 4 ways I can help you take care of yourself and your family:
1. Join From Exhausted To Energized: Helping exhausted moms find emotional, physical, and financial freedom
It's my new Facebook community of fearless mamas healing together —Click Here
2.) Come to a free educational class
To learn more about how to use oils safely and get the most benefits from them, come to one of my FREE online classes...no purchase necessary. To see the events planned for this month -
Click Here
3.) Get started with me
There are lots of perks to becoming a part of my Young Living family. I am passionate about educating you to use your oils, not selling you stuff you would never use. -
Check out these member perks!
4.) Get access to my 90 day business training that will take you from customer to Silver rank in no time!
Once you grab your kit,
contact me
and I'll get you plugged into my free business training!