Living in a tight space with a small kitchen? Here are some tips for you on how you can create your own capsule kitchen! When we moved into our fifth-wheel, we had very little room for all the extra things that can take up room in the kitchen sometimes. So here is how I simplified my needs in the kitchen and created a capsule kitchen!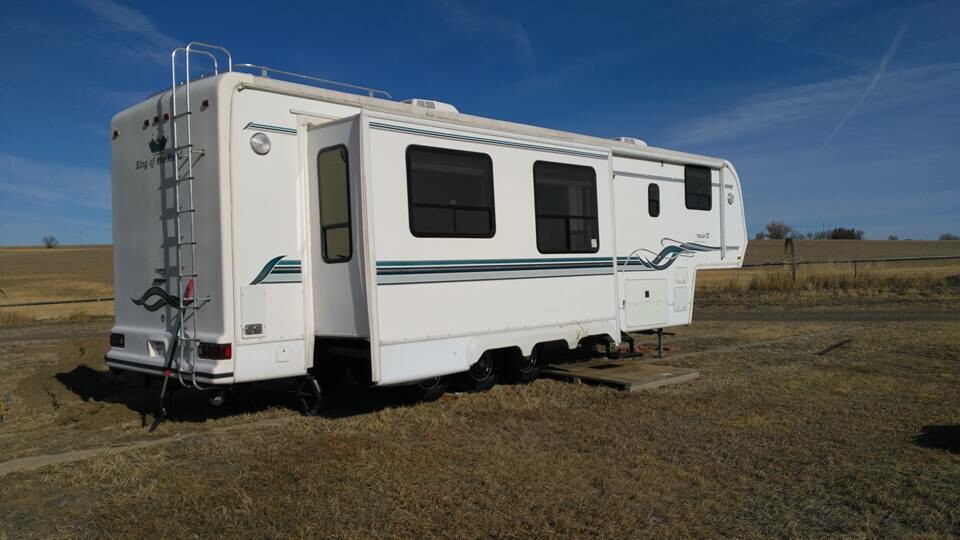 1.) Decide on your key appliances.
In our RV, we had a very small amount of room for appliances. We whittled it down to 4 appliances: our instant pot that could also be a slow-cooker, our instant water kettle, a waffle maker and a Ninja Blender that also came with a food processor attachment.

We didn't make pancakes. We made waffles. We didn't have a toaster...instead we used the microwave or the oven to warm up bread. We had to simplify and honestly, it was quite nice only have a few appliances. Now we have more which I also enjoy for various reasons but living simply has its benefits...less dishes to wash being one of them!

In our current kitchen, I have a slow cooker, an instant pot, an indoor grill, an ice-cream maker, our Ninja blender and food processor and our kitchen aid. Our indoor grill doubles as our wafflemaker so I recently sold the little one I had for the RV.
2.) Decide on your pots, pans, and baking dishes.
Before I moved into an RV, I used to have two of every size pot and pan almost. When we moved, I picked the most important sizes and kept one of each. Surprisingly, I rarely ever missed not having two of every size! In fact, having only one size pan of each size helped me stay on top of dishes because instead of just getting the second one dirty when the first was sitting waiting to be washed, I had to wash the first and only one I had before I could use it again.
I also whittled down my baking dishes to two round cake tins, a pie pan, a muffin tin, a cheesecake pan, an edged cookie sheet, and a non-edged cookie sheet. I never missed my other baking dishes.
If you are living in a fifth-wheel and you have a giant space in the cupboard under your refrigerator like I did, get a wheeled crate that fits into the space and store dishes or canned food in it. It is easy to grab and wheel out when you need something but it keeps the space well-organized!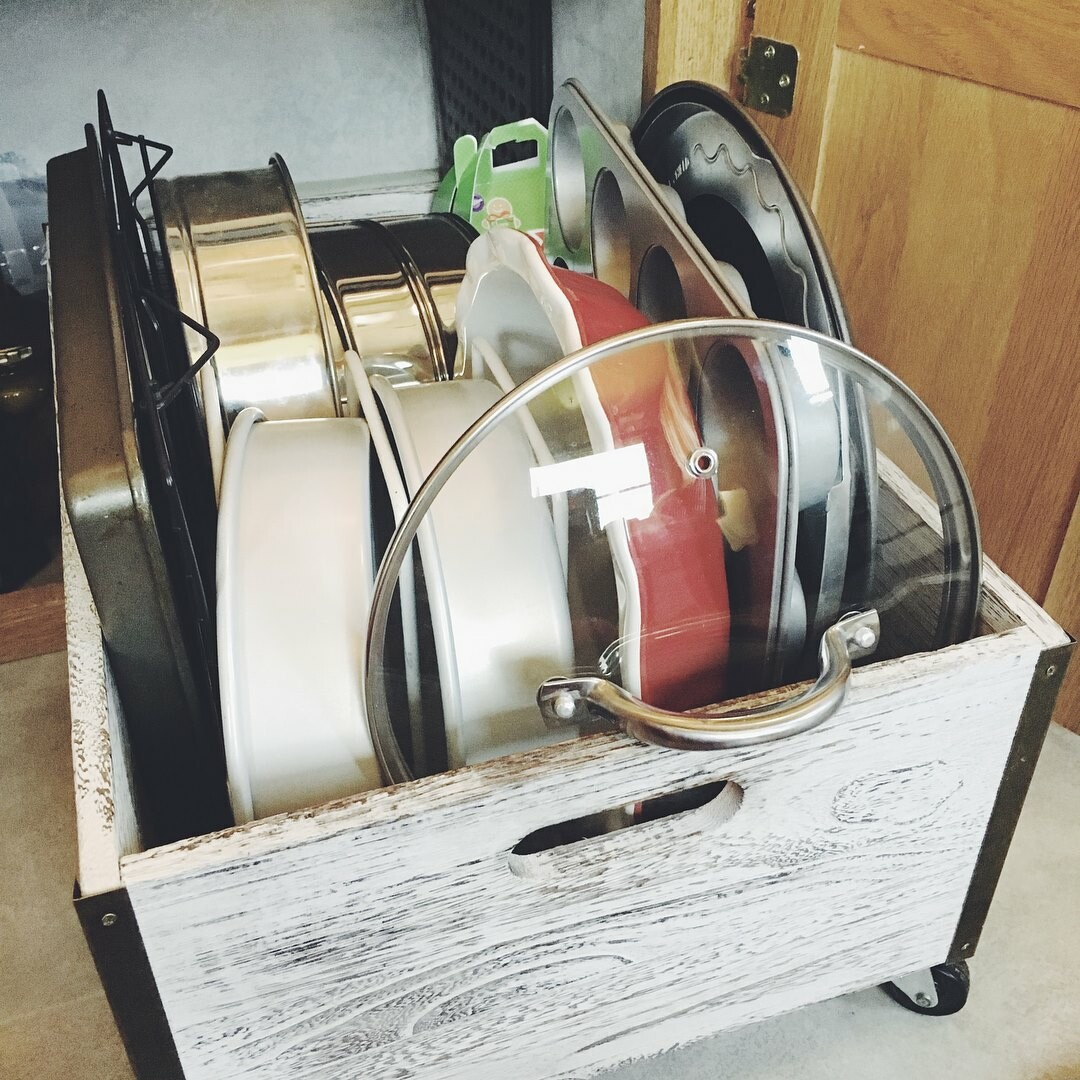 3.) Decide on your kitchen gadgets.
To be honest, I've never been a fan of kitchen gadgets...I don't have much use for something that only does one thing in my kitchen in general...like a strawberry corer...no offense if you have one and love it!
In our RV, I had only 3 drawers...so I had to keep my gadgets to a minimum. One drawer held my dishtowels and wash cloths that were also kept to a minimum. One drawer held my silverware and the third drawer held my gadgets and measuring cups.
The gadgets that I decided I couldn't live without were my can opener, my ice cream scoop, my vegetable peeler, my pizza cutter, and my garlic press. I also had a lemon juicer and a wine bottle opener as well as a collapsible small funnel. I also had a small whisk, a marinating brush, and measuring spoons. That was it. I loved it! It was just simple and easy. With my sharp Cutco knives, I never needed any other gadgets to get the jobs done!
4.) Decide on your dishes and storage containers.
When we moved into our fifth-wheel we chose one set of dishes that were lightweight and took up a smaller amount of space when stacked. We also choose plastic Tupperware storage containers that could easily stack to take up less space. Everything needed to be as space efficient as possible! We also still had glasses, small glasses, and wine glasses...we just kept a minimum of 8 glasses in each size and only 4 wine glasses in our cupboards at a time...we also kept a limited amount of mugs.
5.) Decide on your canned goods, dried goods, and spices.
Lastly, it's time to decide on your essential pantry items. I had a designated space for canned goods, dried goods, and spices so whatever I chose to keep in my kitchen on a regular basis had to fit into those designated spaces. I bought rectangular storage containers from Home Goods to store my different flours and starches on one shelf in my pantry. Since we were gluten-free by then and I didn't have space to keep tons of different flours, I simplified my dried goods section by keeping a one-to-one gluten free flour replacement along with cornmeal, arrowroot starch, and xantham gum.
In the canned foods section, I kept the necessary items like tomato sauce, tomato paste, refried beans, olives, and pineapple. I always bought these items in bulk from Sams so I made sure I had enough space for everything in bulk in my designated canned goods section.
In the spices section, I figured out exactly how many spices I could store and then I picked all the spices that I used most regularly...so Saffron and cumin were not spices I kept in the RV because I rarely used them. I looked through my most used recipes and made sure I kept all the spices I used on a regular basis. If a recipe called for one I didn't have, I either borrowed it from someone, or just skipped it.
Having to simplify your pantry also leads to simplifying your recipes. It's not entirely a bad thing as it makes for easier cooking but you do have to get creative sometimes when you run into a cooking rut.
I hope these ideas help you simplify your kitchen whether you are living in a tight space or whether you are just trying to simplify your life. Have a simple kitchen will help you keep on top of dishes and cooking a lot easier with less stress!
xo Rachelle <3