Now that you have chosen your capsule wardrobe colors, it is time to plan out your capsule wardrobe pieces!
Look in your current closet and look for any pieces that fit the neutrals you choose or your color palette: whether they are going to be main pieces or accessories like scarves, jackets, etc. Figure out what you already have and write them down so you can see how many pieces you have.
For Example:
1 black long-sleeved shirt
1 black tank-top
2 pairs of jeans
1 long-sleeve purple shirt
1 quarter length sleeve purple & turquoise shirt
If you are feeling like it is too difficult to choose 2-3 colors for your whole year, you can choose to make capsule wardrobes for each season, or a fall/winter wardrobe and a spring/summer wardrobe. You may end up keeping more clothes this way, but it is totally up to you! If you decide you want to plan out two wardrobes, then do this whole process to plan both before you go shopping to see what you need for both capsule wardrobes.
What I did to finish planning my capsule wardrobe is I drew out my ideal pieces. (And no, you don't have to be a great artist as you will see from my drawings. LOL) You don't have to draw them, but it helped me think it through. I prefer to wear my neutrals on the bottom and wear colors on the top to draw people's eyes up to my face, but some people really enjoy and look good in colorful pants! You actually will have more options with creating different outfits if you do decide to have some color pieces on the top as well as the bottom but just figure out what you enjoy wearing and go from there.
Hopefully these pictures will help you see how to plan your own capsule wardrobe, starting with the pieces that you have and then figuring out what additional pieces you'd like to have to layer and make multiple looks! You might find looking on Pinterest for outfit ideas will also help you see ideas for using the same pieces in multiple ways or new ways of using colors together! Make it yours!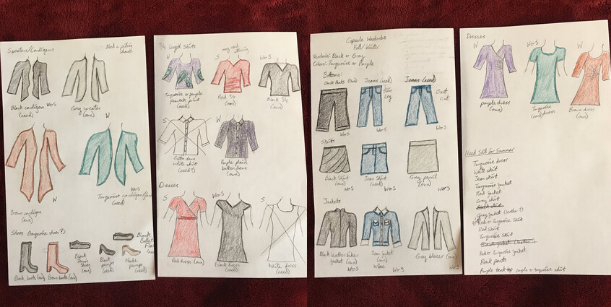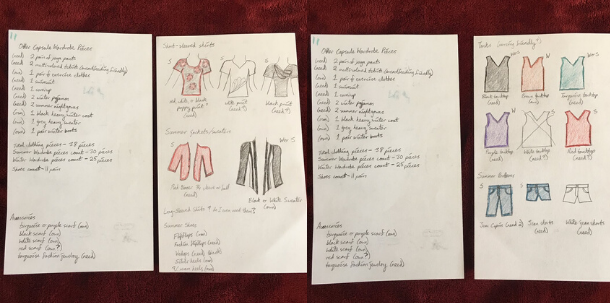 Once you have finished planning your wardrobe, here's the fun part! Go shopping! I suggest going with a friend who will help you choose your pieces ruthlessly...what I mean by this is: you do not want to come home with any pieces that you feel iffy about. You have to absolutely LOVE them.
Think about the fabric you are choosing. Will the pieces wash well? Are they dry-clean only or washable?
Are they going to last well through multiple washings? Will they stain easily? I found that some of my cotton shirts that were only one color got stained while my shirts with prints went much longer without looking worn out.
Do they fit perfect? Are they too small or too big? Don't buy it if it doesn't look really nice on you RIGHT NOW. You aren't buying for later. You are buying clothes to look good right now. Bonus if they will look good even as you are losing weight, but they still need to look nice right now. I found the flowing shirts were some of the best for disguising a post-partum tummy.
Look for prints that contain 2 or more of your capsule colors! Having fun jackets or long-sleeve pieces to layer will change up your look too! When it comes to your neutral core pieces like pants, skirts, and jackets, look for quality as much as you can. These pieces can last much longer and be used for multiple capsule wardrobes. Think about accessories that you like to wear and find them in the fun colors that you picked so you have even more options to mix up for new wardrobes!
It is ok if your first capsule wardrobe pieces aren't perfect. You'll know how to shop even better next time once the pieces you get wear out! (Which they do a bit faster since you are washing them more since you have less clothes to begin with...but I think it's nice because it gives you a good reason to go clothes shopping on occasion!)
Those are my tips for building your own capsule wardrobe! If you have questions that I haven't answered in these last blog posts, I'd love to know what they are so I can make sure to answer them for you!
xo Rachelle